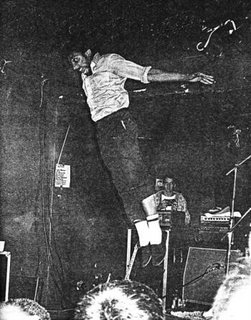 As a high school skateboard nerd, I spent many a summer afternoon grinding the rails in some empty parking lot with Bad Brains blasting on my Sony Walkman. My
Steve Olson Skull Skate
was strictly Minor Threat- and Bad Brains-powered. At home, I would stare intensely at this picture of HR (right) while flipping my favorite BB's cassette,
1988's "Live,"
over and over, dreaming of the epic pit. I'd crank up "I" and "At the Movies" to prime myself for an all-ages warehouse punk show on the outskirts of town, lacing up my combat boots and spiking my hair with cement-like gel --
No matter what they say, never give in! Never give in!
Reagan made us all very earnest. When I eventaully picked up guitar, I spent hours trying to emulate the wiry, precision punk-metal chaos of Dr. Know's solos. It was impossible. What was so amazing was that the pure machine-gun fury was met with sweet downbeat reggae numbers that opened my static suburban universe to the mysterious splendors of B. Marley, Peter Tosh and Big Youth. The discovery of weed was only a matter of time.
It's an old story.
And now
they're back
, according to Pitchfork, cutting a new record with Beastie Boys' Adam Yauch producing. That's exciting, although it's quite unimaginable that they can ever reproduce the savage energy of the early years. Who can? The discovery of these two YouTube performances -- "Attitude" and "Sailing On" from 1979 -- is a revelation. It's 1950s rock and roll as reimagined by late 70s black free-jazz punks. If you're not moved by these, you're not movable. Dig HR's foot work!
Bad Brains - Attitude 1979
On a recent visit to Washington, DC, the original Bad Brains home, I got a another copy of "Live" at
Crooked Beat Records
, where they have a vast selection of great old DC punk. (The very cool owner, Bill Daley, transplanted the store from Raleigh, NC, and has an amazing selection of used vinyl, which is why this site was able to enjoy the craggy strains of the Rick Danko solo album.) As in memory, "Live" Bad Brains is raw and beautiful fury. The guitar on "I" is pure scorcery, HR's scream blood-curdling. Play LOUD.

"I" - Bad Brains

"I Against I" - Bad Brains
"I & I Survive" - Bad Brains

"At the Movies" - Bad Brains